Lessico
---
Aquilegia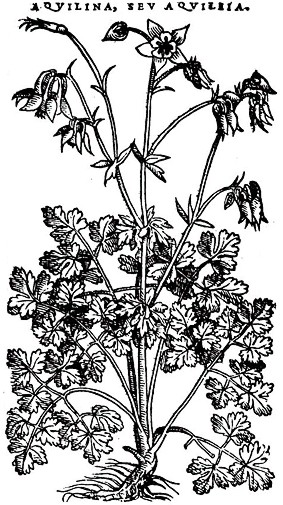 Aquilina, sive aquilegia, Italis
Aquilegia vulgaris di Pierandrea Mattioli


tratta dal suo Compendium de plantis omnibus (1571)
I semi dell'Aquilegia vulgaris secondo Mattioli
risolvono rapidamente l'itterizia e provocano sudorazione.
Aquilegia deriva dall'aggettivo latino aquilegus, che raccoglie acqua. Aquilegia è un genere di piante erbacee della famiglia Ranuncolacee, caratterizzato da fiori di tipo euciclico, nei quali cioè gli elementi del perianzio, dell'androceo e del gineceo sono disposti in verticilli. I petali hanno forma di cornetto per la presenza di uno sprone; le foglie sono ternatocomposte.
Le specie di aquilegia non sono molto numerose: alcune fanno parte della nostra flora come l'aquilegia vera e propria detta anche amor nascosto (Aquilegia vulgaris) e l'Aquilegia alpina. Altre, esotiche, sono state introdotte nei giardini per la decoratività dei loro fiori: Aquilegia canadensis a fiori penduli rossi e gialli, Aquilegia flabellata pure gialla e rossastra, Aquilegia coerulea bianca e bluastra; fioriscono tutte da aprile a giugno e sono usate come ornamento in aiuole e per giardini alpini.
Aquilegia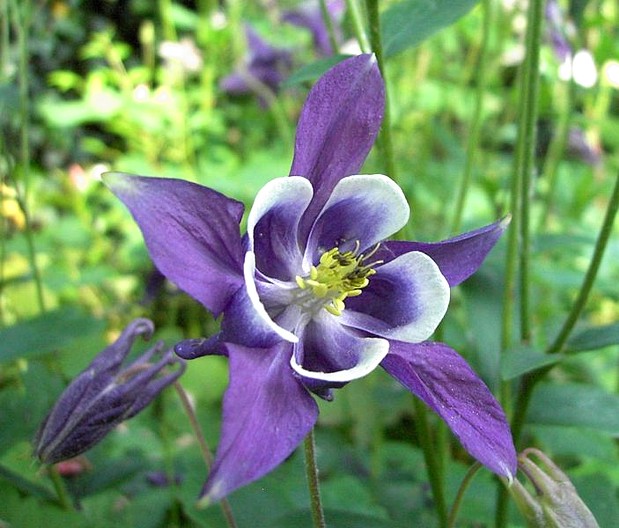 Aquilegia vulgaris
Aquilegia (columbine) is a genus of about 60-70 species of herbaceous perennial plants that are found in meadows, woodlands, and at higher altitudes throughout the Northern Hemisphere. They are known for their distinctive flowers, generally bell-shaped, with each petal modified into an elongated nectar spur.
Several species are grown in gardens; Aquilegia vulgaris (European Columbine) is a traditional garden flower in the British Isles, and several of the species that are native to North America are popular garden plants there. Numerous hybrids have also been developed as well. They are easy to propagate from seed.
They are used as food plants by some Lepidoptera species including Cabbage Moth, Dot Moth, The Engrailed and Mouse Moth.
Aquilegia alpina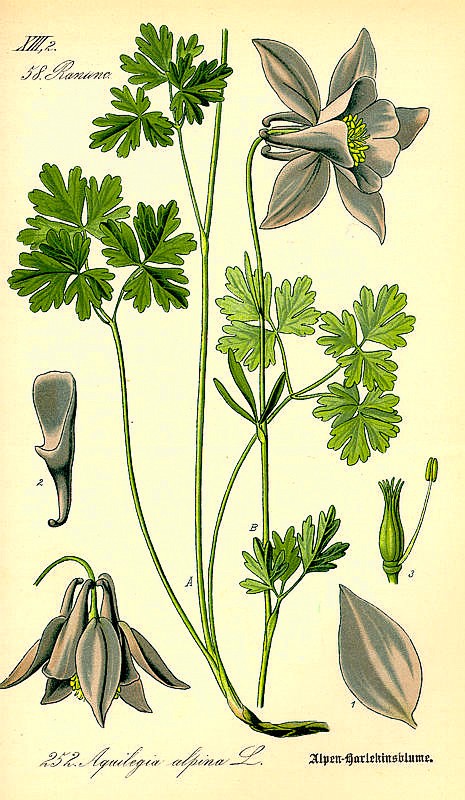 L'ancolie des Alpes (Aquilegia alpina) est une plante herbacée vivace de la famille des Ranunculaceae. L'ancolie des Alpes est une plante endémique des Alpes occidentales et des Apennins. Les fleurs sont d'une élégance rare et sont gracieusement originales dans leur forme. la plante porte de une à cinq très grandes fleurs d'un beau bleu, à pétales tronquées et à gros éperons un peu arqués, et à étamines un peu plus courtes que les pétales.
Aquilegia coerulea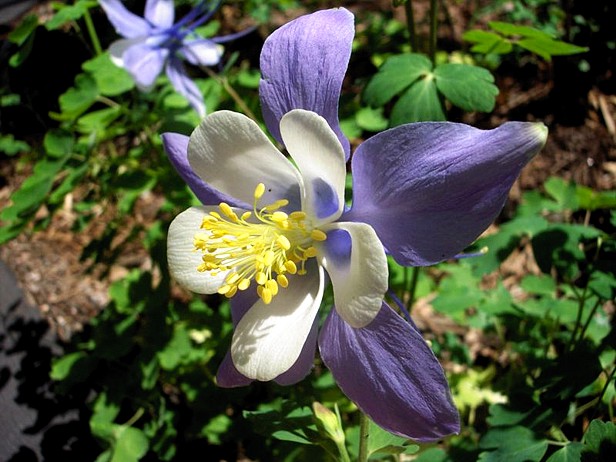 Aquilegia coerulea is a species of Aquilegia native to the Rocky Mountains from Montana south to New Mexico and west to Idaho and Arizona. Common names include Colorado Blue Columbine and Rocky Mountain Columbine, the latter also shared with Aquilegia saximontana.
It is a herbaceous perennial plant growing to 20-60 cm tall. The flowers are very variable in color, from pale blue (as in the species name coerulea) to white, pale yellow and pinkish; very commonly the flowers are bicolored, with the sepals a different shade to the petals.
Aquilegia coerulea is the state flower of Colorado. It is also a popular ornamental plant in gardens, with numerous cultivars selected for different flower colors.
Aquilegia canadensis
Wild Columbine (Aquilegia canadensis) is a wildflower of the Ranunculaceae family. Leaves are both basal and cauline, lobed and divided. Flowers appear in late spring, above the foliage. Flowers consist of coloured sepals, and petals elongated into a spur. The round end of the spur contains the nectar for the flower and is sought after by pollinators. These plants are easily propagated from seed, and can flower in the first year. Some ornamental cultivars are available, namely 'Little Lanterns'.
Wild columbine leaves are lobed and grouped in clusters of three. The plants grow well in rocky soil.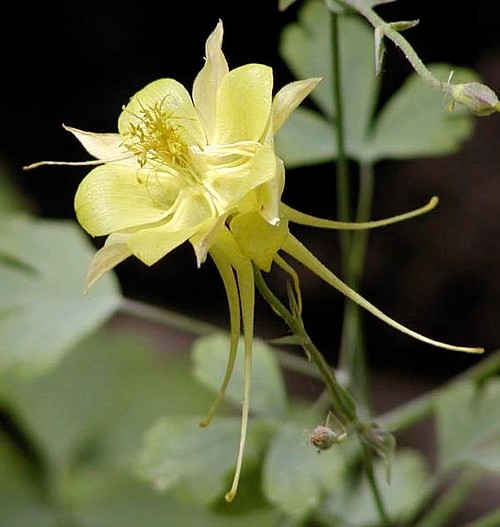 Aquilegia flavescens
Aquilege
del giardino alpino di Valnontey
Cogne (Aosta)
foto di Elio Corti - 1976
Aquilegia atrata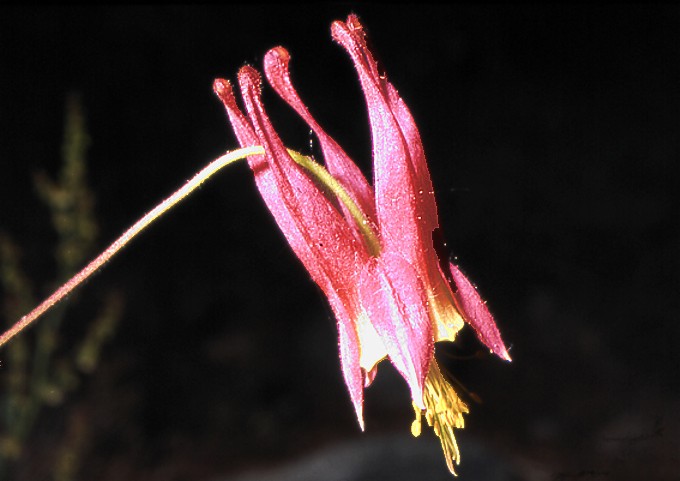 Aquilegia canadensis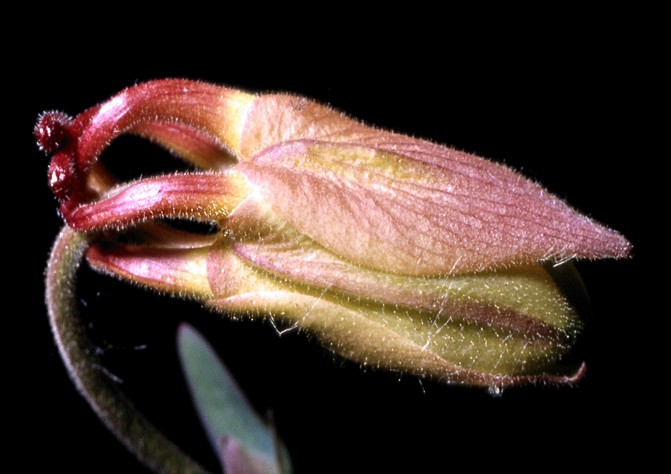 Aquilegia flabellata