Lessico
---
Nonio Marcello
Nonius Marcellus
Grammatico latino (sec. IV). Di origine africana (nacque a Thubursicum, in Numidia

), compose un manuale in 20 libri, di lessicografia e grammatica per i primi 12, e di antichità nei rimanenti, il De compendiosa doctrina, dedicato al figlio.
L'interesse e l'importanza dell'opera, che conosciamo quasi per intero (manca solo il XVI libro), consiste soprattutto negli esempi di cui spesso si avvale: essi ci hanno conservato molti frammenti di antichi poeti latini, di cui in seguito sono andate perdute le opere.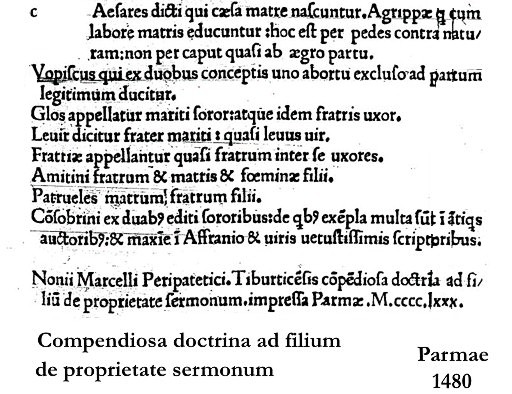 Nonius Marcellus was a Latin grammarian and lexicographer, lived at the end of the 3rd or the beginning of the 4th century AD. He is often called the "Peripatetic of Thubursicum" (in Numidia, probably his birth-place). He is the author of a sort of lexicon, called De compendiosa doctrina, in 20 sections or chapters, the first twelve of which deal with language and grammar, the remaining eight with special subjects (navigation, costume, food, arms). The work is a compilation from commentaries on the authors quoted (whom Nonius only knows at second hand) and from existing dictionaries and grammars. Nonius is especially indebted to Verrius Flaccus and Aulus Gellius.
The Doctrina is valuable as preserving fragments from old dramatists, annalists, satirists and antiquarian writers. It is remarkable that in the quotations from the authors cited Nonius always follows the same order, beginning with Plautus and ending with Varro and Cato. The grammarians Priscian and Fulgentius borrowed largely from his book; and in the 5th century a certain Julius Tryphonianus Sabinus brought out a revised and annotated edition.
Nonius Marcellus, grammairien et lexicographe latin, vivait à la fin du IIIe ou au début du IVe siècle après J.-C. Il est souvent appelé le « Peripatéticien de Thubursicum » (ou Thubursicu, en Numidie, lieu probable de sa naissance). Il est l'auteur d'une sorte de lexique, appelé De compendiosa doctrina, en 20 sections ou chapitres, dont les douze premiers traitent de langue et de grammaire, les huit autres de sujets spéciaux (navigation, costume, nourriture, armes). L'ouvrage est une compilation de commentaires sur les auteurs cités (que Nonius ne connaît que de seconde main) et de dictionnaires et grammaires antérieurs. Nonius a une dette particulière envers Verrius Flaccus et Aulu-Gelle.
La Doctrina est précieuse en ce qu'elle préserve des fragments d'anciens dramaturges, annalistes, satiristes et écrivains en choses antiques. Il est remarquable que, dans les citations d'écrivains, Nonius suive toujours le même ordre, commençant par Plaute et finissant par Varron et Caton. Les grammairiens Priscien et Fulgence firent de larges emprunts à son livre; au Ve siècle, un certain Julius Tryphonianus Sabinus en procura une édition révisée et annotée.