Lessico
---
Niccolò Falcucci
Nicolaus Florentinus / Nicolaus Falcutius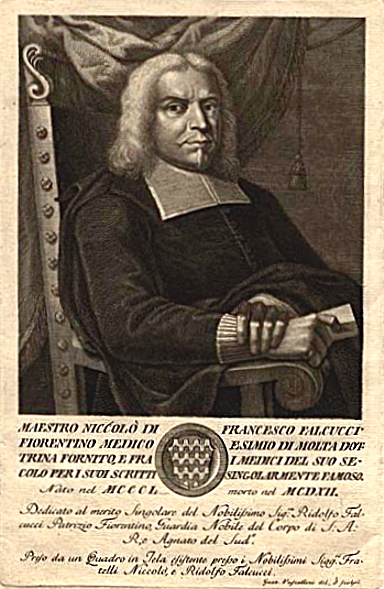 A print of Nicolo Falcucci
given to the University of Iowa Libraries
by Professor Emeritus Arthur L. Benton, M.D. in 1987.
Falcucci was the author of Sermones Medicinales,
a summary of all medieval medicine published ca. 1484.
Nicolaus Florentinus altri non fu che Niccolò di Francesco Falcucci. Fu un medico di Firenze nato intorno al 1350 e morto nel 1412. Oltre che come Nicolaus Florentinus era noto come Nicolaus Falcutius. Scrisse e fu famoso per i suoi Sermones medicinales. Non sono disponibili altre notizie biografiche.