Lessico
---
Apoptosi
Morte cellulare programmata
---
Nel 1972 Kerr, Wyllie & Currie proposero di attribuire il termine di apoptosi anche all'evento biologico che va sotto il nome di morte cellulare programmata e che gioca un ruolo complementare, ma opposto, a quello della mitosi nel regolare la popolazione delle cellule di un organismo, entrando in gioco, per esempio, anche quando è necessario regolare l'estensione di una membrana interdigitale.
Il termine apoptosi fu in precedenza usato per etichettare la caduta dei petali dai fiori oppure delle foglie dalle piante, in quanto derivato dal greco ἀπόπτωσις che significa caduta, distacco, a sua volta derivato dal verbo ἀποπίπτω che equivale a cadere, saltare giù.
L'articolo di George Johnson apparso nel 1996 sul New York Times dimostra che sperimentalmente i polli possono venir dotati di zampe da palmipede, e pertanto nulla esclude che ciò possa verificarsi in modo naturale grazie a qualche balzana mutazione genetica. La Natura è maestra in queste cose.
Come affermano Abarca-Buis, Rios-Flores y Chimal-Monroy, autori messicani di Control molecular de la apoptosis durante la morfogénesis de la extremidad (apparso in Mensaje Bioquímico, Vol. XXIX - 2005), il pollo si è prestato in modo eccellente per lo studio dell'apoptosi, un processo biologico che rende ragione non solo del fenotipo di mutazioni letali come il talpid3

o mutazione talpa, ma anche per quello della mancanza di ali

– wingless, wg – e per i vari fenotipi della polidattilia

. Di questo esauriente lavoro messicano riportiamo la traduzione solo della parte che ci riguarda, cioè quella relativa al pollo. Per i dati ultraspecialistici riguardanti i meccanismi biochimici implicati nell'apoptosi, si mette a disposizione l'articolo completo in castigliano in formato PDF

.
Anche in campo umano entra fisiologicamente in ballo l'apoptosi, ma questo meccanismo può alterarsi e potrebbe giustificare, a mio avviso, la comparsa di mani e piedi anomali in corso di patologie di origine genetica: la sindrome di Timothy e la sindrome di Apert.
Se abbiamo un po' di tempo da spendere per aggiornarci in biologia, vale la pena leggere quanto riportato dall'enciclopedia Encarta e poi due belle monografie: una dovuta a due studiosi canadesi e l'altra ad alcuni medici della Columbia University di New York.
Apoptosi o Morte cellulare
Fenomeno fisiologico che comporta la degenerazione della cellula a conclusione del suo ciclo vitale; è di grande interesse per le sue implicazioni nei processi di invecchiamento e nello sviluppo di tumori o malattie degenerative. Alcuni autori definiscono il fenomeno con le espressioni "morte programmata" o "suicidio cellulare"; in effetti, ha senso usare i termini "programmata" e "suicidio" perché, come si è osservato, nel patrimonio genetico della cellula entrano in gioco alcuni geni specifici, prima inattivi, che portano la cellula ad autodistruggersi.
Cenni storici
Il termine apoptosi fu utilizzato per la prima volta nel 1972 dal patologo australiano John Foxton Ross Kerr e dal biologo Jeffrey Searle, suo connazionale. Nel 1965 Kerr aveva iniziato le sue ricerche sulle cellule di fegato di ratto, nelle quali osservò una forma inconsueta di degenerazione o necrosi. Nei due decenni seguenti, identificata l'apoptosi come fenomeno differente dalla necrosi, gli studi di Kerr e di molti altri autori si moltiplicarono allo scopo di chiarire le relazioni tra l'apoptosi e i processi di sviluppo embrionale, spermatogenesi, cancerogenesi e la capacità di autoriparazione dei tessuti. In seguito, l'apoptosi divenne materia di ricerche anche nel campo dell'immunologia e della biochimica; furono riconosciute intere famiglie di enzimi coinvolte nella morte cellulare e fattori di crescita capaci di stimolare la cellula e impedire l'attivazione dei meccanismi di autodistruzione.
Finora sono stati descritti gran parte dei meccanismi con cui la cellula "esegue" la propria morte, mentre restano ancora da chiarire molti dei processi genetici e biochimici di regolazione e induzione, che operano a monte e "comandano" l'apoptosi di una determinata cellula. Di grande rilevanza le recenti scoperte effettuate dal biologo statunitense H. Robert Horvitz, dal biologo molecolare Sidney Brenner e dal biologo John E. Sulston, britannici, sul nematode Caenorabditis elegans

, per le quali i tre scienziati furono insigniti nel 2002 del premio Nobel. Allo stesso Kerr fu attribuito, nel 2000, il Paul Ehrlich and Ludwig Darmstaedter Prize (condiviso con Horvitz), per aver identificato il fenomeno dell'apoptosi, onorificenza considerata seconda solo al Nobel.
La morte cellulare è attualmente ritenuta uno dei fronti più interessanti della ricerca biologica e genetica; dalla comprensione dei suoi meccanismi si auspica possano derivare applicazioni nella chemioterapia, nel trattamento del cancro, delle malattie autoimmuni e neurodegenerative.
Apoptosi e Necrosi
L'apoptosi non deve essere confusa con la necrosi, processo anch'esso responsabile della morte delle cellule, senza che ciò comporti necessariamente la morte dell'organismo (si pensi, ad esempio, alla necrosi di alcuni tessuti a causa di congelamento o infarto). Nella necrosi si osserva la lisi (cioè la disgregazione) della cellula: il nucleo degenera e la membrana plasmatica si rompe riversando all'esterno il contenuto; ciò determina una reazione immunitaria dell'organismo e una risposta infiammatoria. La necrosi è dunque un fenomeno patologico. Nell'apoptosi, invece, il nucleo degenera ma la membrana non si rompe; la cellula viene fagocitata dalle cellule specializzate (fagociti). La cellula, insomma, originatasi dalla divisione di una cellula-madre, si differenzia in cellula adulta e va incontro a un certo numero di divisioni mitotiche, secondo il tipo cui essa appartiene; quindi, subisce una fase di quiescenza e senescenza e, infine, l'apoptosi.
Funzioni dell'apoptosi
La morte programmata delle cellule è fondamentale nel controllo numerico delle cellule stesse; le cellule in apoptosi, infatti, bilanciano quelle che si dividono per mitosi. Tale equilibrio contribuisce all'omeostasi di ciascun tessuto dell'organismo e assicura il normale ricambio delle cellule, soprattutto nei tessuti epiteliali soggetti a rapido rinnovamento. Quando l'equilibrio viene alterato da un fenomeno patologico, se prevale la componente mitotica si originano fenomeni di ipertrofia, cioè di aumento abnorme del numero di cellule, come nei tumori; se invece prevale l'apoptosi il tessuto tende ad atrofizzarsi.
L'alterazione dell'equilibrio tra mitosi e apoptosi può avvenire anche fisiologicamente, ad esempio quando l'organismo deve promuovere lo sviluppo o l'eliminazione di una determinata struttura. Un caso importante è quello dello sviluppo embrionale, in cui dopo un periodo iniziale di intensissima attività mitotica, l'apoptosi interviene nel riassorbimento di strutture fetali come, ad esempio, le membrane tra le dita o le cellule nervose tra le quali non si siano create connessioni sinaptiche. Le cellule entrano in apoptosi anche per circoscrivere gli eventuali danni causati da una sostanza, ad esempio un composto tossico, radiazioni ionizzanti, farmaci, radicali liberi, capaci di indurre mutazione, oppure se vengono infettate da virus: infatti, se i danni, soprattutto a carico del DNA, non possono essere riparati, le cellule potrebbero non svolgere più la loro funzione all'interno del tessuto e danneggiarlo, oppure trasformarsi in cellule neoplastiche (tumorali) o diventare veicolo di propagazione del virus. Dunque, l'apoptosi assume in questo caso una funzione protettiva dell'intero organismo. Da notare che alcuni virus, a loro volta, sono in grado di produrre fattori inibitori dell'apoptosi, affinché la cellula continui a sopravvivere (e a "lavorare" per loro): si tratta di un interessante caso di coevoluzione.
Microsoft ® Encarta ® 2006. © 1993-2005 Microsoft Corporation.
Tutti i diritti riservati.
The Chicken With a Duck's Feet:
It's All in the Biochemical Signal
By George Johnson
Science Desk - New York Times
Published: May 21, 1996
Control molecular de la apoptosis
durante la morfogénesis de la extremidad
Mensaje Bioquímico, Vol. XXIX (2005)
René Fernando Abarca-Buis, Alberto Jesús Rios-Flores, Jesús Chimal-Monroy
Instituto de Investigaciones Biomédicas, Universidad Nacional autónoma de México
Apartado Postal 70-228 México DF 04510
Introduzione
Durante lo sviluppo degli organismi pluricellulari si generano distinti tipi cellulari che daranno origine a differenti tessuti e organi. Così il bilancio corretto tra differenziazione, proliferazione e morte cellulare determinano il destino delle varie linee cellulari e il numero di cellule che danno forma a un organo. L'apoptosi o morte cellulare programmata è parte essenziale della vita dei metazoi: spesso negli organismi si produce un numero maggiore di cellule rispetto a quelle necessarie e allora l'apoptosi svolge un ruolo importante eliminando cellule che si trovano in eccesso o per dare un abbozzo ai tessuti.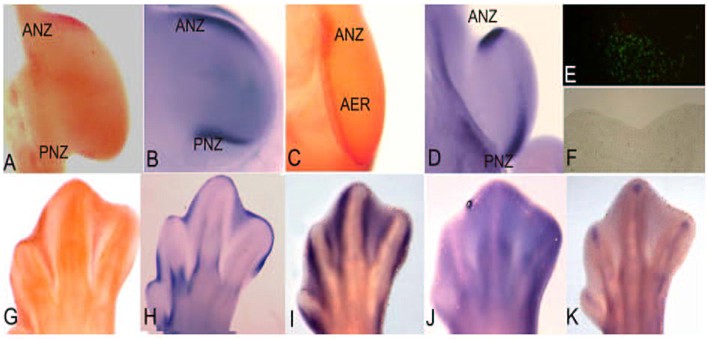 figura 1
L'estremità embrionale del pollo
un modello per lo studio dell'apoptosi
L'estremità del pollo in via di sviluppo si è dimostrata essere uno dei modelli più ricorrenti per lo studio dell'apoptosi in quanto presenta diverse zone che vengono eliminate attraverso questo processo.
La zona necrotica anteriore (ANZ – Anterior Necrotic Zone) e la zona necrotica posteriore (PNZ – Posterior Necrotic Zone) sono aree del mesoderma che, rispettivamente, circondano il bordo anteriore e posteriore delle estremità embrionali (fig. 1 A).
Nonostante il termine con cui sono denominate, queste zone vengono eliminate per apoptosi già in tappe precoci e sono state messe in relazione con la fisiologica riduzione del numero delle dita negli uccelli, tre dita nelle ali e quattro nelle zampe.
In alcune mutazioni del pollo che presentano polidattilia, cioè un incremento del numero delle dita, non si osservano queste zone apoptosiche [1]. Inoltre, il pollo mutante caratterizzato dall'assenza di ali, wingless, presenta durante il suo sviluppo embrionale una ANZ abbastanza estesa correlata appunto con la perdita delle ali [2].
Occorre segnalare che nei mammiferi con pentadattilia, cioè dotati di cinque dita, non compaiono queste aree di apoptosi.
Il buco nero è rappresentato da un'altra zona presente nel mesenchima centrale dell'estremità embrionale di uccelli e mammiferi che si pensa essere in relazione con la separazione dell'ulna e del radio per le estremità anteriori, della tibia e della fibula per quelle posteriori. Il pollo mutante talpid3 non ha quest'area di apoptosi e mostra la fusione di queste due ossa [3].
Per le dimensioni e la loro accessibilità, le aree apoptosiche delle zone interdigitali del pollo rappresentano il modello più usato per studiare i meccanismi dell'apoptosi in vivo.
Come indica il nome, le zone interdigitali sono localizzate fra le dita (fig. 1 E-G) e, a seconda della specie, queste zone si eliminano oppure permangono durante la vita adulta dell'organismo, partecipando in maniera importante alla morfogenesi delle estremità degli adulti. Per esempio, in specie con dita separate come il pollo [4], la lucertola [5], il topo e l'uomo [6, 7] l'apoptosi si estende in tutto lo spazio interdigitale, ma nell'anatra o nella tartaruga che presentano questo tessuto in modo permanente, l'apoptosi si attiva solo nella parte più distale [8, 5].
Oltre che nel mesoderma, l'apoptosi è attivata anche nell'ectoderma, in una regione molto importante per lo sviluppo dell'estremità, denominata Cresta Ectodermica Apicale (AER Apical Ectodermic Ridge). (Fig 1 C). L'AER è un ingrossamento dell'ectoderma localizzato nella parte più distale dell'estremità embrionale ed è una struttura molto importante poiché governa la crescita prossimo-distale dell'estremità. L'eliminazione dell'AER provoca il troncamento dell'estremità, mentre la presenza di due AER dove originariamente ce n'è una, ne provoca la biforcazione [9]. Si è osservato che l'apoptosi regola il volume dell'AER in modo tale da poter realizzare la sua funzione in modo molto preciso durante tutto lo sviluppo dell'estremità. In base a questo, l'incremento di cellule apoptosiche nell'AER risulta in un troncamento parziale o completo dell'estremità [10], processo che nei serpenti si presenta in modo naturale [11]. In base a queste osservazioni, si è dedotto che in tappe dello sviluppo durante le quali ha luogo la formazione delle dita, si manifesta una polidattilia oppure una riduzione del numero delle dita in base a un'inibizione o a un incremento dell'apoptosi nell'AER di embrioni di topo [12]. Tutte queste osservazioni mettono in luce l'importante ruolo dell'apoptosi affinché le estremità si formino in modo corretto. In base a ciò, nella figura 1 mostriamo l'espressione di alcuni geni la cui espressione è in relazione con le zone di apoptosi a livello delle estremità e la cui funzione è in relazione diretta con il controllo di questo processo.
1. Hinchliffe, J.R. y Ede, D.A. (1967). Limb development in the polydactylous talpid3 mutant of the fowl. J. Embryol. Exp. Morphol.17: 385-404.
2. Hinchliffe, J.R y Ede, D.A. (1973). Cell death and the development of limb form and skeletal pattern in normal and wingless (ws) chick embryos. J. Embryol. Exp. Morphol. 30: 753-772.
3. Hinchiliffe, J R. y Thorogood, P V. (1974). Genetic inhibition of mesenchymal death and the development of form and skeletal pattern in the limbs of talpid3 (ta3) mutante chick embryos. J. Embryol. Exp. Morphol. 31: 747-760.
4. Pautou, M. P. (1975). Morphogenesis of the chick embryo foot. J. Embryol. Exp. Morphol. 34: 511- 529.
5. Fallon, J.F. y Cameron, J. (1977). Interdigital cell death during limb development of turtle and lizard with an interpretation of evolutionary significance. J. Embryol. Exp. Morphol. 40: 285-289.
6. Milaire, J. (1977). Histochemical expression of morphogenetic gradients during limb morphogenesis. Birth defects: original article series. 13: 37-67.
7. Kelley, R.O. (1970). An electron microscopic study of mesenchyme during development of interdigital spaces in man. Anat. Rec. 168: 43-53.
8. Saunders, J.W. y Fallon, J.F. Cell death in morphogenesis. In: Locke M, editor. Major problems in developmental biology. New York: Academic Press; 1967. p. 289-314.
9. Saunders Jr. J.W. (1972). Developmental control of three-dimensional polarity in the avian limb. Ann. NY Acad. Sci. 193: 29-42.
10. Seto, M.L., Nunes, M.E., MacArthur, C.A., Cunningham, M.L. (1997) Pathogenesis of ectrodactyly in the dactylaplasia mouse: aberrant cell death of the apical ectodermal ridge. Teratology. 56: 262-270.
11. Raynaud A. Developmental mechanism involved in the embryonic reduction of limbs in reptiles. (1990) Int. J. Dev Biol. 34: 233-243.
12. Klein, K.L., Scott, W.J., Wilson, J.G. (1981). Aspirin-induced teratogenesis: a unique pattern of cell death and subsequent polydactyly in the rat. J. Exp. Zool. 216: 107-112.
Monografia canadese sull'apoptosi
Essendo scritto in un inglese assai facile, ecco l'esauriente e ottima monografia sull'apoptosi desunta dal web e stilata da Michael Wride & Leon Browder dell'Università di Calgary, provincia dell'Alberta, Canada sudoccidentale.